Scams & Alerts

Wilmington Savings Bank knows how important your privacy and security are. Knowing the steps to take if you suspect your personal information is in jeopardy is critical. That is why we make it a priority to educate our customers on privacy and security. For information on our privacy policy, please click here.
Identity Theft
It's important to know the steps to take if you suspect that your identity has been stolen. The quicker you act, the safer you, your identity, and your assets will be.
Call the companies where you know fraud occurred. Ask them to close or freeze your accounts. This will help ensure that no new charges occur.
Change logins, passwords, and PINS for your account.
Place a free, one-year fraud alert on your identity by going to experian.com/help or by calling 888-EXPERIAN (888-397-3742)
Report identity theft to the Federal Trade Commission. Complete the online form or call 1-877-438-4338. Include as many details as possible.
You may choose to file a report with your local police department. Bring a copy of your FTC Identity Theft Report, a government-issued photo ID, proof of address, and any proof you have of the theft.
To learn more about what to do if think your identity may be stolen, go to identitytheft.gov for more information.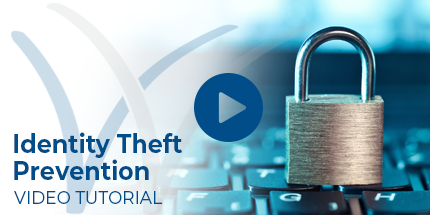 Telephone Scams
Telephone scammers try to steal your money or personal information. Scams may come through phone calls from real people, robocalls, or text messages. The callers often make false promises, such as opportunities to buy products, invest your money, or receive free product trials. They may also offer you money through free grants and lotteries. Some scammers may call with threats of jail or lawsuits if you don't pay them.
Report Telephone Scams
It's important to report phone scams to federal agencies. They can't investigate individual cases. But your report can help them collect evidence for lawsuits against scammers.
For more help in resolving consumer issues, you can report scams to your State Consumer Protection Office.
Report How to Protect Yourself from Telephone Scams
Remember these tips to avoid being a victim of a telephone scam:
Do
Register your phone number with the National Do Not Call Registry. You may register online or by calling 1-888-382-1222. If you still receive telemarketing calls after registering, there's a good chance that the calls are scams.
Be wary of callers claiming that you've won a prize or vacation package.
Hang up on suspicious phone calls.
Be cautious of caller ID. Scammers can change the phone number that shows up on your caller ID screen. This is called "spoofing."
Independently research business opportunities, charities, or travel packages being offered by the caller.
Don't
Don't give in to pressure to take immediate action.
Don't say anything if a caller starts the call asking, "Can you hear me?" This is a common tactic for scammers to record you saying "yes." Scammers record your "yes" response and use it as proof that you agreed to a purchase or credit card charge.
Don't provide your credit card number, bank account information, or other personal information to a caller.
Don't send money if a caller tells you to wire money or pay with a prepaid debit card.
Phishing and Vishing
Scammers use a variety of methods to try to steal your personal and financial information. They use trusted logos of legitimate companies when sending email. Or, they pretend to be a family member or friend, so they can trick you into giving them sensitive information.
What is Phishing?
In phishing, scammers use fake email, text messages, or copycat websites to steal your identity or personal information. Their goal is to get credit card and bank account numbers, debit card PINs, and account passwords. The scammer may say your account has been compromised or charged incorrectly.
When they contact you, scammers will tell you to click on a link in their email. Or, they'll ask you to give your bank account number to confirm your identity or verify your account. Sometimes, they may even threaten to disable your account if you don't reply. Don't believe them. Legitimate companies never ask for your password or account number by email.
Report Phishing Scams
Forward phishing email messages to spam@uce.gov or file a complaint with the Federal Trade Commission (FTC). Be sure to include the full email header of the fraudulent message. Learn how by searching online for the name of your email service and the words "full email header."
How to Protect Yourself from Phishing
Here are some ways to protect yourself from phishing scams:
Do
Contact the company if you're unsure. Don't call the number or use the links in the email. Instead, find their legitimate website or check a bill or account statement for contact information. Tell a customer service representative about the email and ask if your account has been compromised.
Turn on two-factor authentication. This involves accessing an account or website online using your password and another piece of information. This could be a code sent to your phone or a random number generated by an app. This protects your account even if your password has been stolen.
Don't
Don't click on any links or attachments in the questionable email. They may contain a virus that can harm your computer. Even if the links in the email say the name of the company, don't trust them. They may redirect you to a fake website.